Recommended Global Pharmaceutical Sciences Conferences
Asia Pacific & Middle East
Biomarkers 2019
Biomarkers 2019
We invite all interested participants across the globe to attend 11th Annual Biomarkers and Clinical Research Congress during Oct 25-26, 2019 in Copenhagen, Denmark which includes prompt keynote presentations, Oral talks, Poster presentations and Exhibitions. Biomarkers 2019 covers on all aspects of the pharmaceutical sciences, strong emphasis on originality and scientific quality.
Working under the theme" Lab to Industry as Biomarkers to Therapeutic Discovery this unique international conference will opportunity to reach the largest assemblage of participants from the Pharmaceutical community to gather and share their insights and convey recent developments in this field This is a true forum where ideas and discussion is driven by the participants and interaction with peers and others leads to fruitful outcomes.
Biomarkers 2019 is a 2-day event offering the Exhibition, at venue to showcase the new and emerging technologies and have wider sessions involving Keynote presentation, Oral, YRF ( student presentation), poster, e-poster presentations. World-renowned speakers and eminent delegates across the globe attending the conference, to share their valuable presentation on the most recent and advanced techniques, developments, and the newest updates are the prominent features of the conference.
Why to Attend???
With members from around the world focused on learning about Biomarkers and Clinical Research; this is your best opportunity to reach the largest assemblage of participants from the Biomarkers and Clinical Research community. Conduct presentations, distribute information, meet with current and potential scientists, make a splash with advanced treatments, and receive name recognition at this 2-day event. World-renowned speakers, the most recent techniques, developments, and the newest updates in Biomarkers and Clinical Research are the hallmarks of this conference.
Target Audience:
Biomarkers and Clinical Research Scientists, Students
Biomarkers and Clinical Researchers
Biomarkers and Clinical Research Faculty
Biomarkers and Clinical Research Associations and Societies
Medical Colleges
Psychiatrists
Business Entrepreneurs
Training Institutes
Software developing companies
Manufacturing Medical Devices Companies
Data Management Companies
Details of Biomarker 2019 conferences in Denmark:
| | | |
| --- | --- | --- |
| Conference Name | Place | Date |
| Biomarkers 2019 | Copenhagen, Denmark | Oct 25-26, 2019 |
Sessions/Tracks
Track 1: Biomarkers
Biomarker is a key molecular or cellular event that links a specific environmental exposure to a health outcome. Biomarkers can be all that can be appropriately measured as an indicator of normal biological working, pathogenic paths or a drug response to a therapeutic drug intervention. Biomarkers play a dynamic role in accepting the relationships between exposure to environmental chemicals, the development of chronic human diseases, and the identification of subgroups that are at increased risk for disease. Biomarkers are used in many specific fields.
Regulatory validation
Cell biology
Geology and astrobiology
Ecotoxicology
Track 2: Discovery of Biomarkers
Biomarker discovery requires sure identification of a biomarker with real-time quantitative information to indicate proteins which are altering to a statistically applicable degree in response to disease. The discovery of biomarkers has been developed a new strategies from the initial stages. In the first stage of biomarker discovery proceedings, investigation depends upon mass spectrometry techniques to make unbiased, semiquantitative analysis of changes between healthy and diseased conditions. The slope of probable biomarkers generated in the discovery stage is to be further substantiated due to the high false positive rate. It is done through more targeted and quantitative mass spectrometry techniques, such as immuno-affinity peptide enrichment.
This track includes, the latest trends in discovery, development and identification of biomarkers are discussed. There are many new strategies present in development of biomarkers. In this section advancements of biomarkers in various sectors like paediatric diseases biomarkers, clinical biomarkers, and clinical analysis of NGS samples are covered.
Track 3: Biomarkers in Drug Discovery & Development
Biomarkers have numerous uses in pharmaceutical R & D. With the present introduction of high-performance composition, protein and gene arrays and bioinformatics, clinical conclusions like Drug development and selecting the type of treatment can be made proficiently. Still, there is an insufficiency of effective biomarkers to increase the drug development from pre-clinical through all levels of clinical studies. Biomarker in Drug Discovery main lead to the advance of Modified Medicines.
Track 4: Immunological Biomarkers
Biomarkers that can regulator several diseases of the immune system such as autoimmunity, immunodeficiency, cancer, allergies and infections are called immunological biomarkers. As the immune system interrelates with all other systems in the body, it theatres a very important role in the discovery of biomarkers. Immunological biomarkers, such as miRNA and serum Biomarkers can deliver info about the immune response of a body under normal or abnormal conditions.
Track 5: Biomarkers in Oncology
Biomarkers play a significant role in oncology that is used in clinical research for risk valuation, differential diagnosis, determination of the nature of tumors, for recognition purposes, to determine the prognosis and dose-response of the drug to the cure. The procedure indicative of the presence of cancer in the body is carried out by means of tools known as cancer biomarkers. There are different types of cancer in which biomarkers have their presentation, such as lung, melanoma, breast, colorectal, pancreas and many more. Biochemically, cancer biomarkers can be DNA, RNA, proteins, peptides, hormones, metabolites and even biological procedures such as apoptosis, angiogenesis or proliferation. Around three key types of cancer biomarkers depending on their clinical use: prognostic, predictive and pharmacodynamics markers.
Track 6 : Clinical Research on biomarkers
The Biomarkers discover is major important application in the field of cancer innovations through Biomarker meetings. Bioethics is a protected innovation which makes to increase the standard of theory regarding clinical approval of biomarkers. Right now use of biomarkers is blasting business. A large portion of the developed associations like Parexel, Pfizer and Quintiles are into clinical innovative work. Different types of reporting bias and publication bias, make the association between CRP and prognosis among patients with stable coronary disease one of the most emerging iinovative work by using prognostic biomarker. Publication bias, statistical analytic protocols and registration of studies are one of other measures which might help increase the quality of prognostic biomarker research
Track 7: Emerging Therapeutic Biomarkers
A reliable therapeutic biomarker would facilitate the identity of current management algorithms, ensure that pathogenic mechanisms were eliminated prior to treatment withdrawal, and reduce the frequency of unnecessary sustained therapy. Hence there are various researches in progress to discover new biomarkers for various diseases starting from cardiovascular disorders to autoimmune disorders and Genetic disorders. Emerging therapeutic biomarkers in Cancers: Endometrial Cancer, Ovarian cancer, Melanoma, Non-small cell lung cancer, Lung Cancer etc.
Track 8: Cancer biomarkers
The biomarkers used in treatment of cancer are called as cancer biomarkers. Now day's biomarkers play a crucial role in cancer prognosis, diagnosis and treatment of cancers. Role of biomarkers in cancer research and medicine are Risk assessment, Diagnosis, Prognosis and treatment predictions, Pharmacodynamics and Pharmacokinetics, Monitoring treatment response and Recurrence. There are different types of cancer biomarkers like Prognostic, Pharmacodynamics, and Predictive. The major types of cancers in which biomarkers are widely being used in lung cancer, breast cancer, blood cancer, prostate cancer and colorectal cancer. Cancer biomarkers conferences provide a good platform to enhance discussion on various new researches.
Track 9: Biomarkers for Non-Cancerous Diseases
Biomarkers play an important role in prognosis and diagnosis of various cardiovascular and neurological diseases. The diseases which are deadly from ages have a possible treatment and easy diagnosis with the help of advancements in biomarkers through different diagnostics methods and imaging technologies. Cardiac biomarkers and neuro biomarkers has brought a great revolution in disease diagnosis and prognosis. These biomarkers are also used in many other non-cancerous diseases. Some of the important ones are Alzheimer's disease, cardiovascular diseases, Huntington's disease, Neurodegenerative diseases, Diabetes and Behcet's disease.
Track 10: Relevance of Biomarkers
Biomarkers plays particularly role in the field of 'personalized medicine'. Moreover, they may be helpful in detecting therapeutic and adverse responses and in patient stratification based on efficacy or safety prediction. Thus, biomarkers are essential tools for the selection of appropriate patients for treatment with certain drugs to and enable personalized medicine that is 'providing the right treatment to the right patient, at the right dose at the right time'. Prognostic biomarkers are of particular significance for malignant conditions. Similarly, Diagnostic biomarkers are important in autoimmune diseases. Disease severity biomarker is helpful tools in the treatment for inflammatory skin diseases. Identification, qualification and implementation of the different kinds of biomarkers are challenging and frequently necessitate collaborative efforts.
Track 11: Biomarkers and Personalized Medicine
The ability to look at a patient individually will provide a more precise cancer diagnosis and specific treatment plan. The genetic information from individuals can then be used to effectively treat them, by finding the variations that can account for possible diseases. An individual's genetic make-up also plays a large part in their extent of response to a certain treatment, and hence, having the knowledge of their genetic content can alter the type of treatment they receive. These approaches are intended to identify individualized patient benefits of therapies, minimize the risk of toxicity and reduce the cost of treatment.
In personalized medicine, biomarkers have a special place, which mends with cancer diagnosis, drug development and usage and cancer genomics. Challenges in these fields are an interesting topic to be discussed as there are radiant solutions emerging.
Track 12: Biomarkers: Validation and Verification
In the biomarker pipeline, the technologies that will enable the use of biomarkers in drug discovery and development vary depending on the research stage. The second stage, biomarker validation and clinical assay development, depends upon extremely sensitive and specific high-throughput immunoassays. The single greatest challenge in discovering biomarkers with clinical utility is the sensitivity and specificity necessary to determine that a biomarker is truly positive for disease or disease toxicodynamics, and can be used to detect deviations from normal. The molecular biomarkers conferences provide good exposure in drug discovery. Biomarkers have special applications in the areas of translational medicine, clinical development and safety assessment where they are put through several stages of drug discovery, development and validation.
Omics Technologies in Biomarkers Discovery and Validation
Latest diagnosis techniques
Assessment of drug response
Advancements in analysis
Application of tools
Track 13: Biomarkers Imaging and Dynamics
Biomarkers imaging is a cross-discipline which is an intersection of in vivo imaging and molecular biology. It facilitates the picturing of the cellular function and the supplement of the molecular process in biological processes without disturbing the living organisms. The various fields of study the Biomarkers Imaging brings life into are diagnosis of diseases such as cancer, cardiovascular diseases and neurological disorders. This technique also donates to the improvisation of the treatment of various diseases and disorders by adjusting the pre-clinical and clinical tests of new drugs. The biomarkers dynamics meetings are also expected to have a major economic impact due to very prior and more precise diagnosis.
Biomarkers imaging techniques using biomarkers popularly known as Imaging biomarkers have an important role in screening in various diseases particularly cancer screening using various new generation tools and technologies.
Market Analysis
Overview on biomarkers market:
The global biomarkers market has increased demand in recent years due to the rapid growth of population, rapid growth in IT industry which leads to increasing efforts towards the drug discovery. The entry of new entrepuners is expected to further boost the growth of the market. The advancements and innovations of biomarkers in medical arena such as research and cancer treatment will propel the future growth of the global biomarkers market. Biomarkers are broadly used to detect diseases such as immunological disorders, neurological disorders, cancer, cardiovascular disorders, and others. In the arena of oncology, recently three biological markers have been added to conventional breast cancer risk models to identify women at a higher risk of breast cancer
Global Vocal Biomarkers Market:
Sound vibrations are used as part of therapeutic healing for various mental health conditions such as anxiety and depression. Recent research studies, however, have greatly widen its applications into diagnosis of various diseases. On successful completion of clinical trials, HIPAA compliant vocal biomarker system would serve as much more alternative methods to current diagnostic techniques such as MRI, X-Ray, and CT scan. Research is also ongoing for identifying vocal biomarkers in diagnosis of Parkinson's disease, traumatic brain injury, cognitive impairment, and respiratory disorders, which would open up a highly profitable avenue for growth for players in this industry. Since last 22 years companies dealing with vocal biomarkers is on researching by sampling data to provide accurate results and it has collected over 2.5 million voice samples in over 40 different languages.
Global Biomarkers Market is expected to USD 78.9 billion by 2024, from USD 31.4 billion in 2016 growing at a CAGR of 12.2% during the forecast period of 2017 to 2024. The new market report contains data for historic years 2014 & 2015, the base year of calculation is 2016 and the forecast period is 2017 to 2024.
Regional analysis includes
North America (U.S., Canada)
Latin America (Mexico, Brazil)
Western Europe (Germany, Italy, U.K, Spain, France, Rest of Western Europe)
Eastern Europe (Russia)
Asia Pacific (China, India, ASEAN, Australia & New Zealand)
Japan
Middle East and Africa (GCC, S. Africa)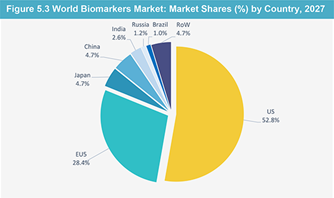 Summary (Overall Market of Biomarkers & Clinical Research with Statistics):
The global biomarkers market is expected to reach $45.55 Billion by 2020 from $24.10 Billion in 2015, at a CAGR of 13.58% between 2015 and 2020. Increasing healthcare expenditure & R&D spending and the increasing utility of biomarkers for diagnostics are expected to drive the market. Market growth will also be aided by the low cost of clinical trials in developing countries and new initiatives undertaken for biomarker research. On the other hand, the need for high capital investment, low benefit-cost ratio, poorly suited regulatory & reimbursement systems, and the high cost of tests and sample collection & storage are the major factors restraining the growth of this market.
The applications included in this report are diagnostics development, drug discovery & development, personalized medicine, disease risk assessment and other applications. The disease indication segments included in this report are cancer, cardiovascular disorders, neurological disorders, immunological disorders, and other diseases.
Major players in this market include QIAGEN N.V. (Netherlands), PerkinElmer, Inc. (U.S.), Merck & Co, Inc. (U.S.), Bio-Rad Laboratories (U.S.), Enzo Biochem (U.S.), EKF Diagnostics Holdings plc (U.S.), Meso Scale Diagnostics, LLC (U.S.), Singulex, Inc. (U.S.), BioSims Technologies (France), Cisbio Bioassays (France), and Signosis, Inc. (U.S.).
To Collaborate Scientific Professionals around the World
Conference Date Oct 25-26, 2019
For Sponsors & Exhibitors
Supported By
All accepted abstracts will be published in respective Conference Series LLC LTD International Journals.
Abstracts will be provided with Digital Object Identifier by